Hi there !
A great news today : the ex- Miss France, Rachel Legrain-Trapani, was tattooed a beautiful rose with the quote saying "Amor Fati"
and it looks like my temporary tattoo. I think she could me buy one of mine !
This temporary tat is favorited by more than 1,000 people on Etsy and 5,000 people on Pinterest.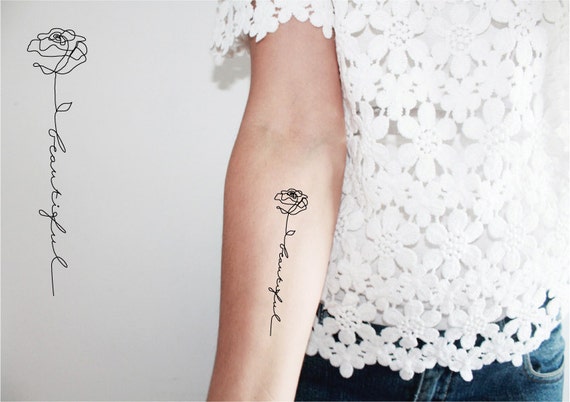 The rose is one of the most popular tattoo designs that you can get. The rose represents beauty and nature.
You can choose a smaller piece , a vintage bouquet or create a whole mythical landscape with the symbolic imagery of the rose.
Une belle nouveauté aujourd'hui. L'ex-miss France, Rachel Legrain-Trapani, s'est fait tatouer une rose avec la citation "Amor Fati". Il ressemble au tatouage temporaire que j'ai créé et j'avoue que cela me fait très plaisir de voir que ce tatouage a du succès et qu'on en voit un ressemblant sur une belle femme connue comme Rachel Legrain- Trapani.
Mon tatouage temporaire a déjà été mis plus de 1000 en favori sur ma boutique Etsy et plus de 5000 fois sur Pinterest.
La rose est un des motifs les plus populaires que vous puissiez avoir. Elle représente la beauté et la nature. Vous pouvez choisir un petit motif, un bouquet de rose tendance vintage ou créer tout une grande pièce avec toute la symbolique de la rose.